PM Hoist (Rack & Pinion) _Material Handling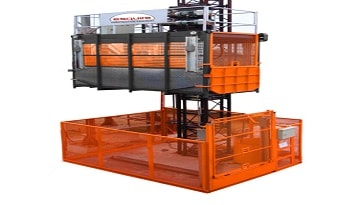 Features :
A very Convenient and Safe mode for Vertical movement of Men and Material.
Easy, Fast and Safe installation and dismantling for re-location.Low maintenance and running cost.
Positive engagement of drive system makes it inherently safe.
Secondary Centrifugal safety device incase of rare drive system failure.
Highly customizable Control Panel for easy incorporation of (optional) VFD, PLC and Encoder as per customer requirements.
Technical Specifications :
| Technical Data | SC - 100 | SC - 160 | SC - 200 |
| --- | --- | --- | --- |
| Pay Load Capacity | 1000 kg | 1600 kg | 2000 kg |
| Cage Size (L x W x H) | 2 X 1.3 X 2.1 Meters | 3 X 1.3 X 2.1 Meters | 3 X 1.3 X 2.1 Meters |
| Drive Power | 2 X 12.5 HP | 2 X 15 HP | 3 X 15 HP |
| Speed | 0-33 m/min | 0-33 m/min | 0-33 m/min |
| Maximum Lifting Height | 160 Meters | 160 Meters | 160 Meters |